Featured Series – Tactical Accessories Part 1
Tactical accessories are necessary for officers to do their jobs. Preparation is the key to success; accessories are a great way to be ready for anything. At Haven Gear, we offer a variety with many different uses to fit your needs.
MK9 POUCH ACCESSORY
With the MK9 pouch, a tool like pepper spray can be easily accessed. This nylon pouch is equipped on a belt or as a drop-leg holster. Pepper spray can be an effective technique to stop a rowdy individual or crowd. As a general rule, spraying someone gives off a pungent aroma and will cause a change in the color of the air. If it comes in contact with the crowd's eyes, it will temporarily harm their vision. This effect tends to last between 10 to 30 minutes.
While this technique can help protect you and others in the crowd, you'll need to quickly get to it. Fortunately, when you have an MK9 pouch, you can know exactly where it is and be able to quickly and easily access it.
MK4 POUCH – MOLDED
The MK4 is another pouch accessory. This molded plastic pouch is small and simple to use. It fits directly to a belt. When you have it in a molded MK4 pouch, it is ready to go at all times. This particular case consists of nylon and is molded, so it precisely fits your MK4.
6X10 VERTICAL UTILITY POUCH With QUICK ATTACH MOLLE STRAPS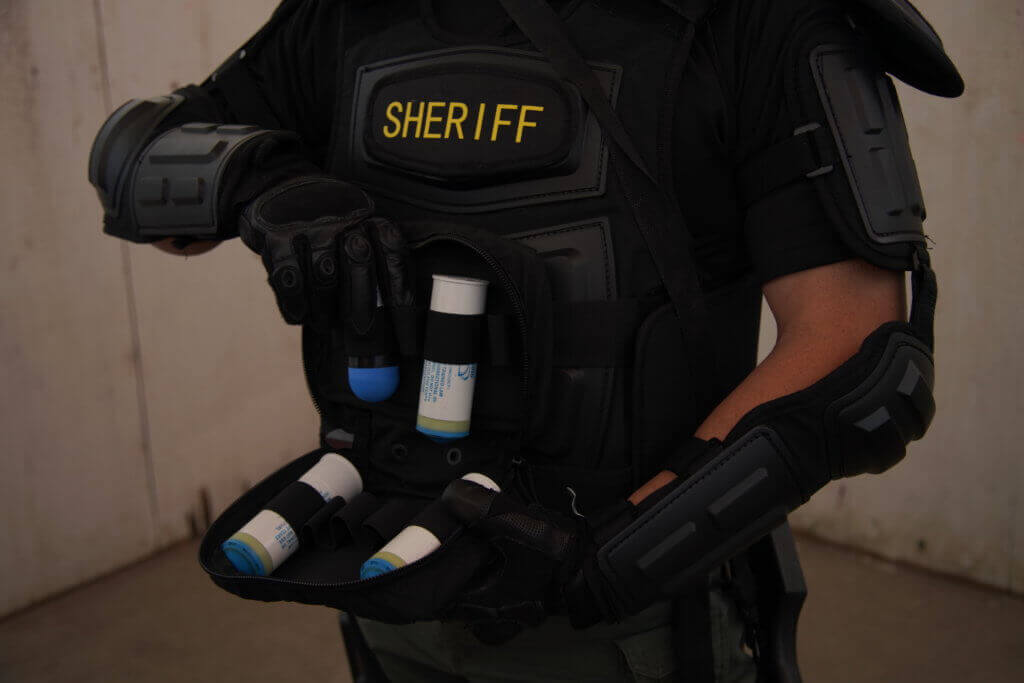 When preparing for a riot, you need a great deal of items for every scenario since you never quite know what to expect. The 6×10 vertical utility pouch with quick attach MOLLE straps has room to store items inside. This ensures you keep the items most needed with you and have them readily available. The MOLLE straps are strong and durable. They can support a sizable amount of weight. This makes it so you can easily carry exactly what you need without having to worry about the reliability of your gear.
GRENADIER BAG W/ QUICK ATTACH MOLLE STRAPS
The Haven Gear Grenadier Bag with Quick Attach Molle Straps is a storage bag for grenades. The straps are strong and allow easy carry and maneuverability. Sometimes a crowd becomes too unruly for initial crowd control measures. Riot grenades consist of either tear gas or rubber pellets. When officers need a more intense tool like these grenades, the availability of that item must be streamlined and ready at any point.
GRENADIER BAG With TACTICAL BELT AND VELCRO PARTS
A grenadier bag with a belt and Velcro is used on first generation Enforcer and Patrol suits. With this, you can still store all of your grenades without worrying about the Molle straps. Officers merely put the bag's belt around their waist and the bag attaches via Velcro. The Velcro is strong enough to keep the bag connected even when it's carrying weight.
You can also purchase other equipment that connects using Velcro. Therefore, you won't be using the belt just for the grenadier bag, which makes it a convenient option.
Contact Us About Featured Accessories
Contact us through our website to learn more about our tactical accessories and how they can help your officers do their jobs safely and effectively.